Night Around the World Theme Kit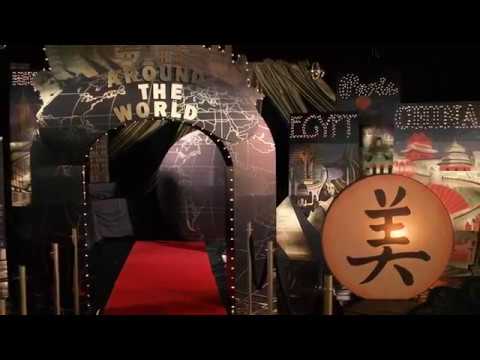 Night Around the World Theme Kit
Let your guests enjoy a Night Around the World!
Please select options below.
Details
Shipping
What's Included
Product Code: KC2236
Create an unforgettable scene for your event with a Night Around the World Theme Kit. This decorating kit includes a lighted arch, 3D buildings, Eiffel Tower prop, red carpet and railing, and plenty of standees to represent iconic cities from around the world. Made of cardboard. Assembly required.
Please note: Some items shown are sold separately. See the What's Included tab for a list of items included in this kit.

Due to distribution and licensing specifications, this product cannot be shipped outside USA.
WARNING: This product can expose you to chemicals including LEAD, which is known to the State of California to cause cancer and birth defects or other reproductive harm.  For more information go to www.P65Warnings.ca.gov.
Assembly Required - Involved Assembly: 5 people > 3 hours
Please allow ample time for delivery. The delivery date for this product is noted above for US shipping only. Please refer to checkout for delivery dates outside of the Contiguous 48 States.
Shipping charges are based on the value of the merchandise and not the number of shipments. For additional shipping information, please contact our Customer Service Department at 800-314-8736.
The Night Around the World Theme Kit includes
Qty. 1 - 9 ft. 8 in. Night Around the World Arch
Qty. 1 - 7 ft. 6 in. Night Around the World Paris Background
Qty. 1 - 7 ft. 6 in. Night Around the World New York City Background
Qty. 1 - 5 ft. 5 in. to 7 ft. 6 in. Black & Gold 3D Building Set of 5
Qty. 1 - 7 ft. 6 in. Night Around the World Egypt Background
Qty. 1 - 7 ft. 6 in. Night Around the World Beijing Background
Qty. 1 - 2 ft. 9 in. to 3 ft. 4 in. Night Around the World Standee Set
Qty. 1 - 6 ft. 7 in. Night Around the World Globe
Qty. 1 - 7 ft. Parisian Chic Slotted Eiffel Tower
Qty. 1 - 4 ft. 7 in. Shanghai Moon Lighted Drum
Qty. 3 - 2 ft. Gold Celestial Sequin Star
Qty. 2 - 4 ft. x 10 ft. Red Carpet
Qty. 2 - Black Railing Rope Replacements
Qty. 2 - Gold Stanchions