Arabian Nights Theme Kit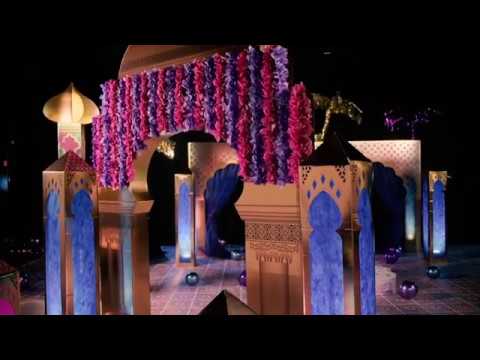 Arabian Nights Theme Kit
Choose this beautifully designed Arabian Nights Theme Kit.
Please select options below.
Details
Shipping
What's Included
Product Code: KC2239
Our Arabian Nights Theme Kit will help you set a magical scene that will make your guests want to take a magic carpet ride. This Arabian themed decorating kit includes an arch, fabric covered entrances, lanterns, columns, a real working fountain, paver cutouts, and three colors of palm trees. Made of cardboard. Assembly required.
Due to distribution and licensing specifications, this product cannot be shipped outside USA.
Assembly Required - Involved Assembly: 5 people > 3 hours
Please allow ample time for delivery. The delivery date for this product is noted above for US shipping only. Please refer to checkout for delivery dates outside of the Contiguous 48 States.
Shipping charges are based on the value of the merchandise and not the number of shipments. For additional shipping information, please contact our Customer Service Department at 800-314-8736.
The Arabian Nights Theme Kit includes
Qty. 1 - 10 ft. 1 in. Arabian Nights Arch
Qty. 4 - 3 ft. Arabian Nights Lantern
Qty. 4 - 6 ft. Arabian Nights Lantern
Qty. 2 - 9 ft. 3 in. Arabian Nights Column
Qty. 2 - 8 ft. 7 in. Arabian Nights Column
Qty. 2 - 7 ft. 6 in. Arabian Nights Fabric Entrance
Qty. 1 - 2 ft. 10 in. Arabian Nights Fountain
Qty. 4 - 1 ft. Arabian Nights Paver Cutouts
Qty. 2 - 8 ft. 6 in. Exotic Gold Metallic Palm Tree
Qty. 1 - 8 ft. 6 in. Exotic Blue Metallic Palm Tree
Qty. 1 - 8 ft. 6 in. Exotic Purple Metallic Palm Tree